Auto Details by Mark: exceptional standards—personal service.
It's how we take care of your car that makes the difference. When you bring your vehicle to us, we fully explain what we do. Our standard procedures on a complete detail include: the cleaning of your engine; wheel wells and wheels; exterior rubber gaskets, emblems, and moldings; the door and trunk jams; and on many vehicles we will pull the front seat(s) and the bottom of the rear seat in order to have full access to the interior.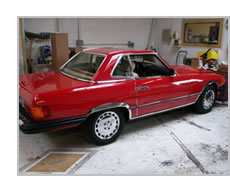 We clean EVERYTHING—no section of your vehicle is untouched. When we polish the exterior we take the time to mask off all exterior moldings, gaskets, and black plastic trim to prevent damaging them and avoid having the wax turn them white. These procedures take a lot of additional time compared to what the typical detail shop might do, but we believe it is absolutely necessary to maintain the integrity of your vehicle. Our final goal is to bring your vehicle back to its original condition.

If you don't have the time to run all over town to take care of issues with your vehicle, one phone call will take care of everything. Call Details by Mark—we handle the details of taking care of your vehicle:
– interior cleaning
– mold and mildew
– water damage
– exterior polishing
– body and paint
– paintless dent removal
– touch-up paint
– upholstery
– windshield and glass
– replacement
– window tinting
– electrical
– sunroof repair
– replacement of any
– factory parts
– accessories