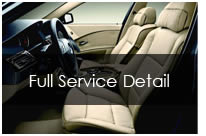 Your car is one of the most important things in your life; you rely on it to get you everywhere you need to go. So doesn't it make sense to invest in the longevity of it? I know what you're thinking, you get the services and tune-ups when they are required and wash it when regularly, but that isn't enough. Due to constant use your car's interior will build up dirt and wear, which not only lowers your car's value but also puts you at a health risk. The only way to help keep your car at peak efficiency is to get a professional auto detail.
The weather here in Oregon lends itself to several types of damage to your vehicle, specifically mold, mildew, and water auto damage. The problem with this type of damage is that it can't be glossed over; it has to be rooted out. If not, it could cause serious long-term damage to the car as well as your health. Make sure you check out our Mold and Mildew Detailing Service, to stay ahead of the problem.

It may be a bit odd putting your car in the hands of someone you have never worked with before, we understand. But as you can tell from our auto detailing customer testimonials, our automotive detailing service has a very diversified and substantial following. Everyone we have worked with has left with their expectations exceeded and a new found love for the car they drive.